The TV series 'Game of Thrones' continues to grow in popularity, gaining more and more fans with each gripping season. Its focus on the lives of fantasy kings and queens has led to the development of some very exciting costumes, all of which of course have a very regal look. That in turn has inspired us to seek out some of the most regal wedding dress material in our collection and here are some of our favourites...
If you want the daring and dramatic - choose Daenerys!­  With an army of followers this structurally dynamic ivory lace features corded floral motifs and embellishment with pearls, beads and crystals.­The floral design grows up the lace with leafy fronds extending from the base flowers.­  The design becomes less dense with small embroidered islands punctuating the tulle.  From the opposite border more floral motifs (6cm/2.3" across) of the same flower extend through the design but this time with small lattice work detail incorporated
Commanding attention, Cersei is a bold, modern arrangement of narrow vertical repeats adorned with pearls and beads measuring 132cm (52") across.  There are a number of vertical bands, each with a modern design, most embellished with pearls or smaller pearls and beads.  The lace edge is a beautifully scalloped design incorporating pearls and repeats every 18.5cm (7.3").  As the bands move up the lace they diminish or stop, creating a lighter, more open design.  The ivory tulle base is exposed as it meets the identical opposite border of the lace.
Centering on a tasteful yet decadent motif that comprises a bouquet of three flowers, this elegant lace fabric style is available in white, ivory or black. Each flower is sharply defined, its outline enhanced with fine cording that complements the feminine fringe at the edges of the material. The complete effect can be easily achieved by adding the matching lace trim and, for a limited time, white Amelia lace fabric is available with a 20% price discount.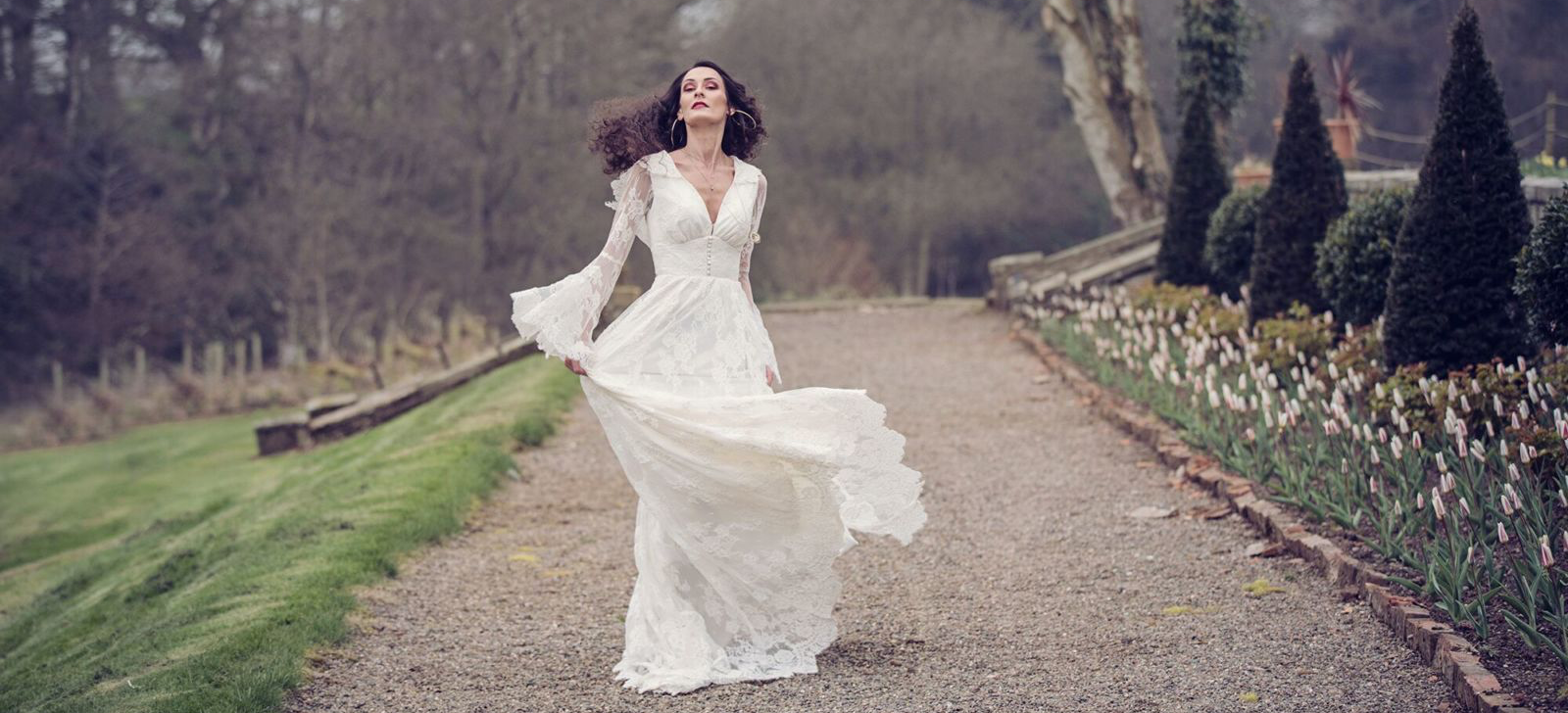 A lightweight tulle has been embroidered by hand, creating an array of floral bouquets. Cording, sequins, pearls and beads work in perfect harmony to highlight the petals of each bloom. Both edges feature fringing and the borders are identical. For a lace trim to complete the look, try Stacey or Wisconsin.
The name of this fabric says it all! This stylish, exquisite jacquard brocade can be rendered in either white or ivory and is an incredibly versatile wedding dress fabric that will make the bride feel just as good as she looks.
Get the regal look with Bridal Fabrics: browse our collection today!