White Weddings: A Bridal Trend
White is always popular as a wedding colour but an emerging bridal trend for 2020 will see BRIDESMAIDS clothed in white fabric, with the bride providing the requisite drama with her lace or embellished wedding gown. A number of high-profile celebs, most notably the talented and beautiful Ellie Goulding, have clothed their bridal entourages entirely in white, with winter-friendly satins and heavy crepe featuring heavily on the couture agenda.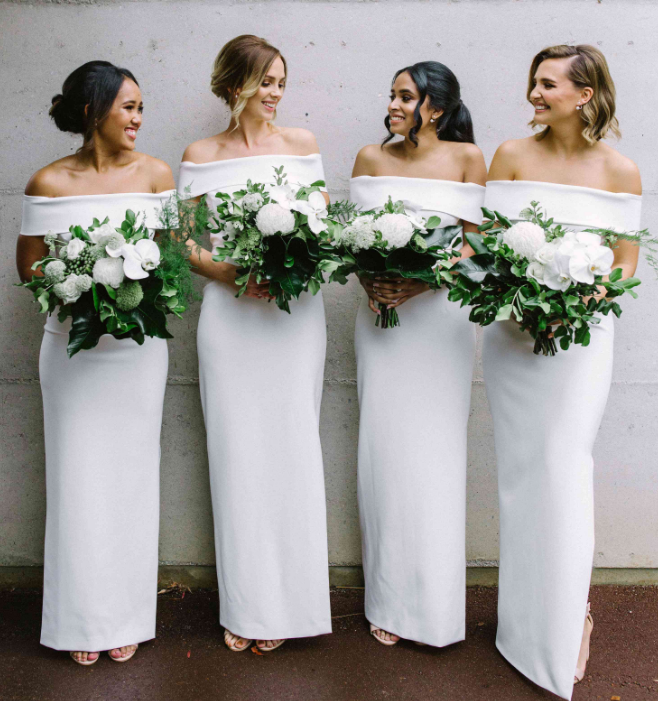 'Simple' and 'sophisticated' are the key words when it comes to choosing white fabric to create bridesmaids outfits. We have picked out four suitable materials from our collection to inspire you. These are:
With a generous width of 147cm, Crystalised Duchess Satin is a remarkable take on Contessa polyester satin. Onto this magnificent fabric, genuine Swarovski crystals have been regularly spaced, creating a gently-glistening wedding fabric that is pure luxury.
A versatile yet luxurious polyester crepe, Compassion has plenty of stretch in both directions thanks to a composition that includes 20% Spandex. The tactile crepe texture gives a soft, almost spongy handle to this bridal material, which effortlessly combines elegance and sophistication.
Palace was an instant hit from the moment it was added to our collection back in 2017. A subtle sparkle effect sets the white fabric apart from other crepes, adding a decadent yet tasteful edge.
Almost indistinguishable from real silk, Supreme rightly earns its name. An extremely rich handle and excellent drape make Supreme satin perfect for creating big and beautiful dresses and skirts.
Check out these fabrics on our website. For more updates from Bridal Fabrics, including emerging trends, new bridal materials, industry news, style guides, special offers and much more, subscribe to our newsletter.